Take your PADI scuba diving certification to the next level! Completion of the Advanced Open Water course will teach you more about navigation skills, as well as certify you to dive to 130 feet, do night dives, and also give you a minimum of 5 open water dives in the crystal-clear, aquamarine waters of Cozumel Mexico.

Advanced Open Water Certification Highlights

Upgrade your certification level from 60 feet (Open Water) all the way up to 130 feet of depth, qualifying you to do any of Cozumel's deep diving!

Train with one of Cozumel's finest dive shops, and get certified with PADI, the world's #1 standard.

Includes a minimum of 5 Dives as part of the course! That works out to only $35.00 per dive, plus you get certified!

Increase your certification level in Cozumel's crystal clear, warm Caribbean waters. What better place?
Cruise Passengers: This is a multi-day course, so is not a good option for a cruise excursion. See our Resort Course.
When: Daily at 10:00 AM
Where: Marina Caleta, just south of the International Pier. Detailed directions will accompany your reservation confirmation.
How Long: 2-3 Days.
Includes:
Hands-on Expert Instruction

A minimum of 5 Dives

Support Materials (Except Student Kit)

PADI Advanced Open Water Certification Card

Includes 1 Deep Dive and 3 Shore Dives
Requires:
PADI Open Water Certification Card

Student Kit (Available for purchase)
OPEN WATER CERTIFICATION COURSE

Ship Price

Cozumel Price

Our Price

You Save!

N/A
$300.00

$270.00

10%

Includes Tanks & Weights.
Rental Gear $25/set (BCD, Regulator, Mask, Fins, Snorkel) Course materials (Student Kit) not included, but available. Certification Fee is required by PADI to cover issuing costs.
BOOK NOW AND SAVE!

Date

Time

Number of Divers

Will you need rental equipment?


Yes


In order to guarantee availability of equipment, please list fin size, BCD size, and wetsuit size (if applicable) for each set requested

in the special instructions box after clicking
"Book It".


OR CALL US TOLL-FREE
1-866-728-1438


Don't worry - English is our First Language!
FREE WITH YOUR RESERVATION!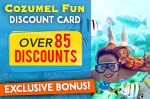 THE COZUMEL FUN CARD
OUR ADVICE:
Let me tell you, it's sure a lot nicer to do these 5 dives in the nice warm waters of the Caribbean than back in the States or Canada! This course is required to descend to depths of over 60 feet.
Don't Forget:
Swimsuit
Towel
Identification
Student Kit
$3.00 Cash per diver for Govt. Marine Park Tax
At the End of this Course:
Receive your Advanced Open Water Certification Card entitling you dive to depths of 130 feet for life.
Recommended Reading:


Dive Sites of Cozumel
and the Yucatan