New to Cozumel, this tour lets you swim and snorkel with the world's largest fish in the open ocean in only 9 hours! Board a fast boat and head for Isla Contoy, where hundreds of these massive creatures, up to 60 feet (12m) in length, gather every summer to breed and feed on the summer plankton bloom. This is one of nature's most incredible experiences - you will likely get to snorkel right there with them! Nowhere else in the Caribbean can you have an experience like this - only in the Yucatan Peninsula of Mexico.

Whale Sharks Express Tour Highlights
Swim and Snorkel in close quarters with whale sharks - maybe not just one, but many! This is an incredible experience, you'll remember it forever!
Bonus! After the whale sharks, we'll go snorkeling on beautiful Ixlache Reef or at Isla Mujeres!
Cruise Passengers: Sorry, this tour meets too early and lasts too long for most cruise ship schedules.
When: Daily at 7:00 AM. This tour is seasonal and runs from May 15 to September 15 only. The rest of the year, see our Sailfish Adventure.
Where: Meet at Senor Frog's, right in front of the ferry pier in Playa del Carmen. You will need to take the 6:00 AM passenger ferry over from Cozumel on your own to meet this tour. See Ferry Information.
How Long: 9 Hours Approximately.
'Includes:
Air-conditioned Ground Transportation
Coffee, Tea, Water and Cookies
Safety and Introductory Briefing
Boat Tour to Snorkel with Whale Sharks
Snorkeling Equipment
Snorkeling on a Coral Reef
Ceviche, Sodas and Water for a Snack
Bilingual Tour Guides
Marine Park Permit Fees
Box Lunch
WHALE SHARKS ADVENTURE (ADULTS)

Ship Price

Cozumel Price

Our Price

You Save!

N/A
$220.00

$175.00

20%

Prices are in U.S. Dollars, Per Person.

WHALE SHARKS ADVENTURE (KIDS 5-10)

Ship Price

Cozumel Price

Our Price

You Save!

N/A
$220.00

$87.50

61%
BOOK NOW AND SAVE!

Date

Time

Adults

Kids



OR CALL US TOLL-FREE
1-866-728-1438


Don't worry - English is our First Language!
FREE WITH YOUR RESERVATION!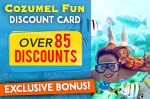 THE COZUMEL FUN CARD
OUR ADVICE:
If you have the time and the money this summer, this is an opportunity you won't find anywhere else in the world. Look at the photos - can you imagine?
Don't Forget:
Swimsuit
Towel
Camera
Hat
Kids: Ages 5 and up. Kids 5-10 years old are half price.
Notes: The whale sharks can be seen from up close, but not touched. All trips are reconfirmed a day in advance to assure good weather for viewing the whale sharks. Please travel as light as possible as there is limited room in the boat. Only biodegradable sunblock may be used.
See also: Whale Sharks Holbox