Brand new to Cozumel, experience the thrill of flying high above the jungle floor on a series of zip lines - also known as a canopy tour. The excursion begins as our expert guides give you a thorough safety instruction until you are comfortable with the zip lines.
From our 12 canopy towers, you'll have panoramic views of Cozumel, adding to the fun. Now Let 'er rip as you zoom from tower to tower on a series of zip lines (we use only double zip lines for safety), as you squeal with delight. After the tour, photos and videos of your tour will be available for purchase, and you can relax at our palapa snack bar.
Cozumel Canopy Tour Highlights

Twice as many zip lines as any tour in Cozumel!

Get great views from atop our special towers!

Have refreshments from our palapa snack bar!

Take home souvenir photos or videos of your tour!
When: Every hour from 9:00 AM to 3:00 PM. This tour runs every day except Sunday.
Where: Taxi to the adventure park. Located 5 minutes from the international pier and 10 minutes south of downtown. Detailed instructions will accompany your e-ticket.
How Long: 1.5 hours approximately. You can stay at the snack bar for as long as you wish.
Includes:
Expert Safety Instruction
All Safety Equipment
English Speaking Guides
Zip Line Tour
Lockers
Water
Kids: 6 years old and up. Kids same price as adults.
COZUMEL ZIP LINES (ADULTS & KIDS)

Cozumel Price

Our Price

You Save!

$92.00

$54.00

42%

Prices are Per Person and Include All Taxes.
THIS TOUR IS NO LONGER AVAILABLE
BOOK NOW AND SAVE!

Date

Time

People



OR CALL US TOLL-FREE
1-866-728-1438


Don't worry - English is our First Language!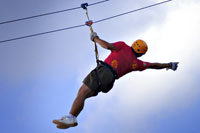 FREE WITH YOUR RESERVATION!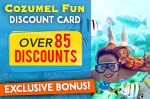 THE COZUMEL FUN CARD
Don't Forget:
Camera
Extra Money for photos, videos, or refreshments.
Restrictions: Pregnant Women, People under the effect of drugs or alcohol, and people with severe heart, back, shoulder, or knee problems will not be able to participate in this activity.
CRUISE TERMINAL LOCATIONS

Punta Langosta

10 Min. by Taxi
International Pier
5 Min. by Taxi
Puerta Maya
5 min. by Taxi
Check with your ship to see which pier you are arriving at.
Taxis are lined up waiting for you as you get off the ship. Very easy. Should cost only about $9.00 USD from the Punta Langosta pier and $4.00 from the International and Puerta Maya piers.