Named for the famous pirate, Jean LaFitte, who once made Cozumel his home, this authentic Spanish Galleon pirate ship will take you on a night of food, drink, and fun! Your pirate captain and his crew are manning the pirate vessel, and will play your hosts for the evening.

Pirates Night Highlights

Start the night with a reception and welcome cocktail with the pirate crew!

Drink your fill from the Open Bar, all night long!

Enjoy the Music as you prepare for your feast!

Feast on a delicious dinner onboard the boat of either New York Steak, Chicken or Surf N Turf (Lobster and Steak), Caesar Salad, Pasta, Vegetables, Baked Potatoes and even Dessert!

Save yourselves! An epic pirate battle is brewing!

Whoop it up with the onboard games, contests, and dancing!
Cruise Passengers: Sorry, this tour is too late for most cruise ship schedules. If you're in doubt, ask us!
When: Monday through Saturday from 6:00 PM to 9:00 PM.
Where: Meet at La Canalla, in the main plaza downtown, in front of Palmeras restaurant at 5:30 PM. (See Map at Right).
How Long: Approximately 3 Hours.
'Includes:
Reception and Cocktail with the Pirates
Onboard Games, Contests, and Dance
Open Bar
Music
Gourmet Dinner Onboard the Boat
PIRATES NIGHT (ADULTS)

Meal Option

Cozumel Price

Our Price

You Save!

Lobster
$85.00

$76.50

10%

Surf N Turf
$85.00

$76.50

10%

Steak
$75.00

$67.50

10%

Chicken
$75.00

$67.50

10%

Prices are Per Person and Include All Taxes and Fees. You will Need $3.00 Cash per Person for Dock Fee.

PIRATES NIGHT (KIDS 6-11)

Meal Option

Cozumel Price

Our Price

You Save!

Lobster
$53.00
$47.50
10%
Surf N Turf
$53.00

$47.50

10%

Steak
$48.00

$43.00

10%

Chicken
$48.00

$43.00

10%
BOOK NOW AND SAVE!

Choose Your Date:

Chose the Number of People for Each Dinner Type
For free kids (under 6, one per family) make sure to note in the special instructions when booking how many free kids.



ADULTS

Lobster

Surf & Turf

Steak

Chicken

KIDS

Lobster

Surf & Turf

Steak

Chicken



OR CALL US TOLL-FREE
1-866-728-1438


Don't worry - English is our First Language!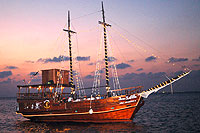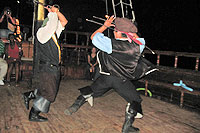 FREE WITH YOUR RESERVATION!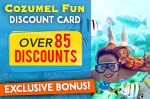 THE COZUMEL FUN CARD
Don't Forget:
Camera
Windbreaker or Sweater
$3.00 Per Person Dock Fee
Kids: All ages are welcome, but the entertainment is really geared for adults (may contain raunchy humor for example). Kids under 7 years old are free (one free child per family) if sharing food with parent. $20.00 per child (paid in cash on the day of the trip) if kids will have their own plate of food.
Portion Sizes: Portions of Lobster, Steak and Chicken are 12 ounces for adults, 8 ounces for Kids. Surf N Turf is 6 oz. of Lobster and 8 oz. of Steak for adults, and 4 oz. of Lobster and 6 oz. of Steak for Kids.
PRIVATE CHARTERS AVAILABLE
We also offer the pirate ship for groups, including weddings, receptions, family reunions, and corporate retreats. Call Us to arrange your customized quote.
CRUISE TERMINAL LOCATIONS

Punta Langosta

Short Walk
International Pier
6 Min. by Taxi
Puerta Maya
6 Min. by Taxi
Check with your ship to see which pier you are arriving at.
Taxis are lined up waiting for you as you get off the ship. Very easy. Should cost only about $8.00 USD from Intl and Puerta Maya piers. to get to Fat Tuesdays.
See Ferry Information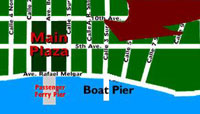 Map of Downtown
Tour Leaves from Fat Tuesdays in front of the Ferry Pier