Feel the adrenaline rushing through your veins in this extreme speed water ride, where you will experience an incredible acceleration and exciting maneuvers, such as 360º turns at a high speed. Become captain of this powerful boat and have a chance to drive it yourself through the sea.
After this exciting thrill you will be taken to a secluded beach, where you will enjoy from its all-inclusive facilities. Take a refreshing drink and; discover the beautiful colors of the Caribbean; or swim in the warm and calm waters.
Visit this fantastic getaway on a private island on northern Cozumel for a day of relaxation away from crowds at Passion Island (Isla Pasion) where a white sand beach and iridescent greenish-blue Caribbean waters will greet you. Sunbathe, let the gentle breeze rock your hammock, shop on our open-air mini mall, paddle a boat, or jump on our water trampoline, kayak around the beach, swim, play, read… enjoy!
Taste our famous guacamole, barbeque chicken and grilled Mahi-Mahi fish at the lunch buffet while enjoying the pleasant view of the Caribbean Sea.
Twister Jet Boat Isla Pasion Highlights

Blast through the Caribbean waters and experience the thrilling 360° turns and sudden acceleration while you watch one of the most beautiful scenarios on earth!

Feel the power of the 1000 Horsepower engines as the Twister Jet Boat makes you scream with excitement!

Delight in a delicious barbecue lunch, consisting of fish, chicken and of course guacamole!

Relax and use the beach facilities at the island paradise of Passion Island the rest of the day!

Beach facilities include hammocks, palapas, beach chairs, shopping, swimming, water trampoline, beach volleyball, cash bar, restaurant, kids activities, snorkeling and a kids club with babysitter!
When: Monday through Saturday at 9:00 AM. There is also a 2:00 PM tour on days where there is a 1:00 PM cruise ship arrival.
Where: Pickup from your Hotel or Cruise Ship
How Long: 5 Hours Approximately.
Kids: Ages 13 and up.
Includes:
English speaking guides

Twister Boat Ride to Passion Island

Life Jackets

The Best Beach in Cozumel

Mexican Buffet Lunch

National Open Bar

Beach Activities

Insurance
TWISTER JET BOAT ALL-INCLUSIVE PACKAGE

Ship Price

Cozumel Price

Our Price

You Save!

$93.00
$80.00

$72.00

23%

Pay As You Go package includes soft drinks.

TWISTER JET BOAT - PAY AS YOU GO

Ship Price

Cozumel Price

Our Price

You Save!

$79.00
$54.00

$48.50

39%
THIS TOUR IS NO LONGER AVAILABLE
See our new Speedboat Adventure!

BOOK NOW AND SAVE!

Date

Time

All-Inclusive

Pay as
You Go



OR CALL US TOLL-FREE
1-866-728-1438


Don't worry - English is our First Language!
FREE WITH YOUR RESERVATION!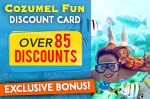 THE COZUMEL FUN CARD
Don't Forget:
Swimsuit
Towel
Sunglasses
Kids: Ages 13 and up. Kids same price as adults. If you have young kids, and want to go on the Twister, one adult can take the small kids on one of the tours below and meet the other adults at Passion Island.
Private Charters Available!
Call Us at 1-866-728-1438
for the best pricing!
More ways to enjoy
Passion Island:
Isla Pasion by Jeep
Isla Pasion Escape
Isla Pasion by Kayak