Cozumel bottom fishing is a very good activity if you're interested in catching a greater number of fish, but don't much care how big they are. You won't reel in any marlin or sailfish this way, but almost all bottom fishing trips result in catching at least something. Some of the fish you'll be fishing for include triggerfish, snapper, grouper, and amberjack, as well as reef fish. This is an excellent way to catch something to eat later that day, and is fun for the whole family. After your day, we can even cook up your catch in the captain's restaurant if you like.

Your crew
Our captains and crews are among the most experienced in Cozumel, participating in all the tournaments, and holding many trophies. The boat is private, just you and your crew will be onboard.
Methods
Bottom fishing in Cozumel is done by dropping lines straight down and deep, with hook, bait, and weight, until they reach the bottom. We'll do this while drifting, rather than trolling, and normally close to shore. In Mexico, many crews don't even use rods for this type of fishing, preferring to use hand-reeled line instead, as they've been doing for their whole lives.
The Fish
Grouper and Snapper are good bets throughout the colder months of the year, while in summer you'll plan more on triggerfish, amberjack, flounder and reef fish. There is always something to catch in Cozumel!
Cruise Passengers: Yes! This tour makes a great shore excursion. Leave the cruise ship crowds far behind!
When: Daily, on Your Schedule. You pick the start time!
Where: Boats depart from Marina Caleta.
How Long: 4 Hours, 6 Hours, or 8 Hours, your choice.
Includes:
Fully Equipped Tournament Fishing Vessel
All Tackle, Gear, and Bait
English Speaking Captain and Crew
Fishing License
Lunch on 8 Hour Trips
Beer, Soft Drinks and Water
Don't Forget:
All Prices are for the Whole Boat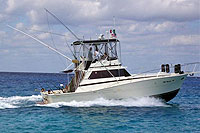 40' Viking with A/C
Up to 8 Passengers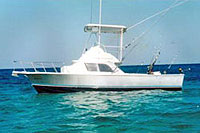 Full Size (30-34 Feet)
Up to 6 Passengers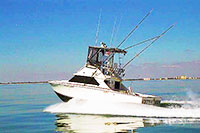 Economy (28-29 Feet)
Up to 4 Passengers