Imagine catching a marlin or sailfish on the fly! We are happy to offer bluewater offshore fly fishing in Cozumel Mexico to experienced saltwater fly fishermen. You'll need to bring your own gear, but we'll take you out and help put you on the fish. Our highly experienced crew can help you make the most of your saltwater fly fishing experience, perhaps landing you a marlin, sailfish, wahoo, or mahi mahi!

Your crew
Our captains and crews are among the most experienced in Cozumel, participating in all the tournaments, and holding many trophies. The boat is private, just you and your crew will be onboard.
Methods
When saltwater fly fishing, we'll use bait to entice the fish to the surface. Once on the surface, we'll cast and bring them in on the fly. This is an exciting way to fish for big game - you'd better be ready for a workout!
The Fish
Billfish season runs from February through July. Mahi Mahi (Dorado), Wahoo, and Tuna also run throughout the spring and summer months. In the winter, the focus switches to Jack, Snapper, Mackerel, Bonita, Grouper, Wahoo and Barracuda.
COZUMEL FISHING SEASONS

Month
Best Fish
January
Red Snapper, Grouper, Jack, Barracuda
February
Beginning of Billfish Season
March

Sailfish, Red Snapper, Barracuda

April

Sailfish, White Marlin, Wahoo

May

Sailfish, White Marlin, Blue Marlin, Dorado

June

Sailfish, White Marlin, Blue Marlin, Dorado

July

Sailfish, White Marlin, Blue Marlin, Dorado

August

Dorado, Tuna, Red Snapper

September

Dorado, Red Snapper, Jack

October

Red Snapper, Jack, Barracuda

November

Yellowtail, Jack, Barracuda, Wahoo

December

Barracuda, Jack, Wahoo, Red Snapper
Cruise Passengers: Yes! This excursion is open to all cruise passengers as well as hotel guests. Escape the crowded cruise excursions with this exclusive tour.
When: Daily, on Your Schedule. You pick the start time!
Where: Boats depart from Marina Caleta.
How Long: 4 Hours, 6 Hours, or 8 Hours, your choice.
Includes:
Fully Equipped Tournament Fishing Vessel
English Speaking Captain and Crew
Fishing License
Lunch on 8 Hour Trips
Beer, Soft Drinks and Water
Don't Forget:
Camera
Sunglasses
Hat
Your own fly fishing gear (Not Included)
Kids: All ages welcome. Fishing is a great family activity.


All Prices are for the Whole Boat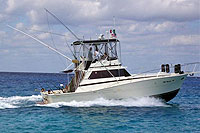 40' Viking with A/C
Up to 8 Passengers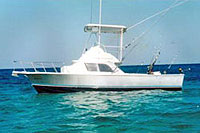 Full Size (30-34 Feet)
Up to 6 Passengers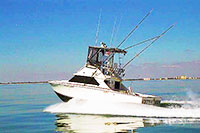 Economy (28-29 Feet)
Up to 3 Passengers
CRUISE TERMINAL LOCATIONS

Punta Langosta

7 Min. by Taxi
International Pier
3 Min. by Taxi
Puerta Maya
3 Min. by Taxi
Check with your ship to see which pier you are arriving at.
Taxis are lined up waiting for you as you get off the ship. Very easy. Should cost only about $8.00 USD from Intl and Puerta Maya piers and $9.00 from Punta Langosta.