Hire your own private driver for a day to show you the mainland of Cancun, Playa del Carmen and the Riviera Maya! After meeting your private tour guide at the ferry pier in Playa del Carmen, the day is yours. You can see the sights of Playa del Carmen, head south to Tulum, stop for lunch at a beach club, or enjoy snorkeling at Yal-Ku Lagoon. Perhaps you'd like to see a cenote, or see the beach towns of Puerto Aventuras, Tulum, Akumal, or Puerto Morelos, or you can even head up to Cancun for some shopping and entertainment! We're happy to give you suggestions, but we are at your service to provide you with the itinerary that you wish!

SAMPLE ITINERARY FOR CRUISE SHIP PASSENGERS
8:00AM - Arrive Cozumel
9:00AM - Ferry to Playa del Carmen
9:45AM - Arrive Playa del Carmen
(This is the time you'll have for your tour)
4:00PM - Ferry to Cozumel
4:45PM - Arrive Cozumel
5:00PM - Back to Ship
When: Daily on Your Schedule.
Where: Meet at the ferry terminal in Playa del Carmen. You will need to take the passenger ferry over from Cozumel on your own to meet this tour. See Ferry Information
How Long: From 3 to 12 hours, it's up to you. Whatever works for your schedule.
Additional Hours: $37.50 per hour for 1-8 people, or $45.00 per hour for 9-14 people.
'Includes:
Kids: All ages are welcome. Kids are the same price as adults.
Restrictions: Price is valid from Playa del Carmen north to Cancun and from Playa del Carmen south to Tulum only. If you want to go north, then back south, or want to travel further than Cancun or Tulum, then please give us a call for a custom quote.
PRIVATE DRIVER FOR A DAY (1-8 PEOPLE)

3 Hours

6 Hours

10 Hours

You Save!

$160.00

$230.00

$315.00

50%

Prices are Total Cost, not per person. This price will guarantee you a private vehicle with non-stop service.
Additional Hours: $37.50 (1-8 People) and $45.00 (9-14).

PRIVATE DRIVER FOR A DAY (9-14 PEOPLE)

3 Hours

6 Hours

10 Hours

You Save!

$175.00

$280.00

$370.00
62%
BOOK NOW AND SAVE!

VEHICLE FOR 1-8 PEOPLE

VEHICLE FOR 9-14 PEOPLE

Date

Time

Number of
People
Number
of Hours

Date

Time

Number
of People
Number
of Hours

OR CALL US TOLL-FREE
1-866-728-1438


Don't worry - English is our First Language!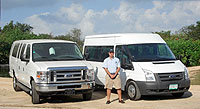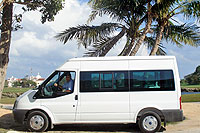 FREE WITH YOUR RESERVATION!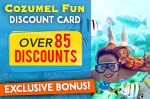 THE COZUMEL FUN CARD
Don't Forget:
Camera
Comfortable Walking Shoes
Extra Money for entrance fees, food or drinks, tips, souvenirs, ferry, etc.
A Few Suggestions:
North of Playa del Carmen

Shopping in Playa del Carmen
Visit Cancun's Hotel Zone
Eat Lunch in a Mayan Village
Shopping in Various Towns
Photographic Expedition
Visit a Secluded Beach
Discover Puerto Morelos
Snorkeling in Puerto Morelos
Botanical Gardens of Pto Morelos
Explore the Chaak Tun Cenotes
See a Crocodile Farm at Crococun
South of Playa del Carmen
Snorkeling at Yal-Ku Lagoon
See Cenotes at Hidden Worlds
Visit the Tulum Mayan Ruins
Shopping in Playa del Carmen
Eat Lunch in a Mayan Village
Photographic Expedition
Spend the afternoon at the Beach
Birdwatch at the Xaman-Ha Aviary
Puerto Aventuras Sightseeing
Beach Club in Tulum
Explore the Chaak Tun Cenotes
See the Caves at Aktun Chen
Cedam Maritime Museum
CRUISE TERMINAL LOCATIONS

Punta Langosta

Walk To Ferry
International Pier
7 Min. by Taxi
Puerta Maya
7 Min. by Taxi
Check with your ship to see which pier you are arriving at.
Taxis are lined up waiting for you as you get off the ship. Very easy. Should cost only about $6.00 USD from Intl and Puerta Maya piers. to get to the ferry terminal.
See Ferry Information